Poker Guide
The very first thing to remember about the game of poker is what it says - only a game, and before you start risking your house on a game of poker or your new career (as it may become) play it as such, you can play poker free online!
1 - Start downloading the "Cake Poker" software while you read on - click the download link and a new window will open - start the download now then come back to this page to read on about how to create an account with them.
Poker Guide - Once the software has installed
2 - After accepting the installation of the Cake Poker software, and you have started/opened the poker room on your computer, you need to now "Create Account" with them (top right of their window) - this will open a browser window.
They take your security very seriously so your password is required to have at least one of each of the following; upper-case letters, lower-case letters, a number, and one special character (like ! or #).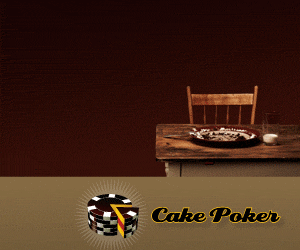 Confirm your Cake Poker account
Now you have created the account with them, they need to confirm your email address is yours (so nobody else can change your password or withdraw your funds).
3 - In your email inbox you will find an email from Cake Poker Support - something like "PLEASE RESPOND - confirm your email". If you don't see it then check your SPAM folder as it may have been incorrectly filed there.
Simply click on the link in the email you received from them - you can now return to their window and login. If your computer is secure then tick "Save Password" before you log in.
Poker Guide - Start Playing Poker
4 - Now the excitement starts. Click the button near the top left of the Cake Poker window that says "Play Money". You're now in the area where all of the available free poker games are ready to play.
5 - You've automatically been given 1,000 chips to play with. The best thing for you to do is, in the main part of the window, find under the "Stakes" column a table with low stakes. Go to the bottom of the list to find a 1/2 or 2/4 stakes game.
Double-click your chosen game to join the table then choose and click a seat to sit down.
<------ for number 4
6 - Select a seat and click to join the table. The default to join the table with is 60 but you can change that based on what you feel , or just leave it the same.
7 - Once waiting to join the hand you should click Auto-Ante, which means your blinds will be put in for you (this should be default in our opinion). Once the dealer button has passed you, you're in! Remember too - it's only play money so you can enjoy your introduction to the game of poker online without any risk.
We hope you've enjoyed our poker guide - good luck!